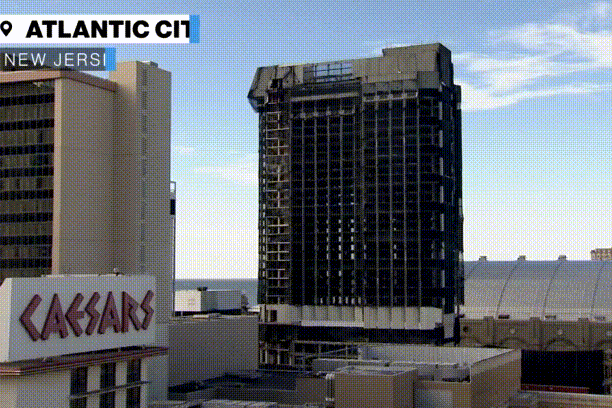 Manhattan District Attorney Alvin Bragg is very hot for you to know that he is not dropping the ball on the Trump investigation.
Sure, the two outside lawyers brought in to lead the inquiry resigned, with white collar legend Mark Pomerantz writing that he "harbors no doubt about whether [Trump] committed crimes — he did," and yet "the investigation has been suspended indefinitely." And according to the Washington Post, the grand jury convened to hear evidence in the matter has been inactive and is scheduled to be disbanded this month.
---
Plus half the office appears to be DM-ing Daily Beast reporters Jose Pagliery and Asawin Suebsaeng to say that the inquiry has been "gutted," with lead investigator Solomon Shinerock spending less and less time on the case. In fact, the Beast has been reporting so relentlessly on the implosion of the Trump case that Pagliery and Suebsaeng appear to have been deliberately snubbed yesterday when Bragg called every reporter in New York but them to insist that he is definitely, 100 percent absolutely not punting on the Trump investigation.
For days, The Daily Beast had been pressing spokespeople in the Manhattan DA's office for comment, sharing with them specific details of this reporting. A spokesperson for the office had repeatedly refused opportunities to go on the record to deny or challenge any of the details.

But Thursday afternoon, hours after being informed of The Daily Beast's final deadline, the office blasted out a written statement, attributed to Bragg, to a variety of national media outlets, insisting that "the team working on this investigation is comprised of [sic] dedicated, experienced career prosecutors," who are still "investigating thoroughly and following the facts without fear or favor."

The Daily Beast did not receive this statement, and the DA's office has continued to decline chances to go on the record to explain how their claims square with this reporting showing how another lead investigator on the case has had his role significantly curtailed.
LOL, subtle.
Bragg sat down for an hour with the Times, whom he assured that his office had recently interviewed new witnesses. He also vowed to publicly announce his decision whether or not to prosecute Trump.
"My determination was that the investigation needed to be ongoing, and that continues to be my determination," he told the Post.
"We are every day following up on new evidence that we've secured," he pledged to CNN. "Investigations are not linear so we are following the leads in front of us. That's what we're doing. … The investigation is very much ongoing."
Much of his effort appears to be directed to assuring the public that whatever he decides will be the right decision.
"I know challenging cases and I'm bringing the rigor that I brought to those here," he promised the Times.
"As anyone who has worked on criminal cases in New York knows, New York County has grand juries sitting all the time," Bragg told the Post, insisting that it was no big deal that the grand jury empaneled to hear evidence in the Trump case is disbanding. "There is no magic at all to any previously reported dates."
And with CNN he brought up his work under former acting New York Attorney General Barbara Underwood to prosecute Trump's family foundation: "When I was at the Attorney General's office as chief deputy overseeing the entire office, I led the team that brought the successful litigation against the former president and the Trump Foundation. So I do what's put before me. That's what I've done as a career prosecutor, follow the facts and we'll go where they take us and that's what we're doing each and every day in the office."
So, clearly everything is proceeding apace, nothing to see here, and those prosecutors just noped out to go spend more time on their golf swings. Or, you know, could be the opposite of that. (For the record, our money's on option two.)
Follow Liz Dye on Twitter!
Click the widget to keep your Wonkette ad-free and feisty. And if you're ordering from Amazon, use this link, because reasons.
window.REBELMOUSE_ACTIVE_TASKS_QUEUE.push(function()
!function(f,b,e,v,n,t,s) if(f.fbq)return;n=f.fbq=function()n.callMethod? n.callMethod.apply(n,arguments):n.queue.push(arguments); if(!f._fbq)f._fbq=n;n.push=n;n.loaded=!0;n.version='2.0'; n.queue=[];t=b.createElement(e);t.async=!0; t.src=v;s=b.getElementsByTagName(e)[0]; s.parentNode.insertBefore(t,s)(window, document,'script', 'https://connect.facebook.net/en_US/fbevents.js'); fbq('init', '482172895483293'); fbq('track', 'PageView');
);
window.REBELMOUSE_ACTIVE_TASKS_QUEUE.push(function(){
/*! getClosest.js | (c) 2017 Chris Ferdinandi | MIT License | http://github.com/cferdinandi/getClosest */ /** * Get the closest parent element that matches a selector. * @param Element elem Starting element * @param String selector Selector to match against * @return Boolean Returns null if not match found */ var getClosest = function(elem, selector)
// Element.matches() polyfill if (!Element.prototype.matches)
// Get closest match for (; elem && elem !== document; elem = elem.parentNode) if (elem.matches(selector)) return elem;
return null;
;
// Vanilla JS
var className="active";
// getting current URL and adding a class on the current menu item
var path = location.pathname.split("https://www.wonkette.com/")[1]; var link = document.querySelectorAll('.menubar a[href="https://www.wonkette.com/" + path + '"]'); if (link[0]) if (link[0].classList) link[0].classList.add(className); else link[0].className += ' ' + className;
// remove class from home-link var home = document.getElementsByClassName('home__item'); if (home[0]) if (home[0].classList) home[0].classList.remove(className); else ') + '(\\b
// search the closest parent and adding an active class on it too
var closestParent = getClosest(link[0], '.menubar_item-dropdown');
if (closestParent) if (closestParent.classList) closestParent.classList.add(className);
else closestParent.className += ' ' + className;
var socials = document.getElementsByClassName('social-links')[0]; var cloneSocials = socials.cloneNode(true);
var menu = document.getElementById("menubar"); var cloneMenu = menu.cloneNode(true);
var mobileMenu = document.getElementsByClassName('main-menu-wrapper')[0]; var beforeEl = document.getElementsByClassName('menu-global__search-form')[0];
mobileMenu.insertBefore(cloneSocials, beforeEl); mobileMenu.insertBefore(cloneMenu, beforeEl);
if (!document.body.classList.contains('logged-out-user')) var existCondition = setInterval(function() var userLink = document.querySelectorAll('.main-menu-item--my_page .link'); if (userLink.length) clearInterval(existCondition); var membersLink = document.querySelectorAll('#membersLink'); var userUrl = userLink[0].href; Array.prototype.forEach.call(membersLink, function(el) el.href = userUrl; );
if (document.querySelector('.main-menu-item--designer_editor')) document.querySelector('.main-menu-wrapper').classList.add('user-admin');
, 500); else var existCondition = setInterval(function() var userLink = document.querySelector('.main-menu-item--login .link'); if (userLink) clearInterval(existCondition); userLink.href="http://www.wonkette.com/core/users/email_login/";
, 500)
function copyValue(el) var thisVal = el.options[el.selectedIndex].text; var closestForm = getClosest(el, 'form'); var paypalAmount = closestForm.nextSibling.querySelector('.paypal-amount'); paypalAmount.value = thisVal;
document.addEventListener("scroll", createIdleScrollListener(() => if (window.scrollY > 0) document.body.classList.add('page-scrolled'); else document.body.classList.remove('page-scrolled');
));
function createIdleScrollListener(callback) let ticking = false;
return function onScrollIdle() if (ticking) return;
ticking = true; requestAnimationFrame(() => callback(); ticking = false; ); ;
});
window.REBELMOUSE_ACTIVE_TASKS_QUEUE.push(function()
window.addEventListener("scroll", () => if(this.scrollY > 50 ) document.querySelector(".rebelbar.rebelbar--fixed.skin-simple").style.display = 'none'
else document.querySelector(".rebelbar.rebelbar--fixed.skin-simple").style.display = 'block' );
);
window.REBELMOUSE_ACTIVE_TASKS_QUEUE.push(function(){
window.REBELMOUSE_STDLIB.loadExternalScript("https://checkout.stripe.com/checkout.js", function() {
if (!Element.prototype.matches) Element.prototype.matches = Element.prototype.msMatchesSelector || Element.prototype.webkitMatchesSelector;
if (!Element.prototype.closest) Element.prototype.closest = function(s) var el = this; if (!document.documentElement.contains(el)) return null; do el.parentNode; while (el !== null && el.nodeType === 1); return null; ;
function formsHandling() { var formDonate = document.querySelectorAll('.donation-form:not(.processed)');
formDonate.forEach(function(formEl) var formEl = formEl;
formEl.classList.add("processed");
formEl.addEventListener("submit", function(event) event.preventDefault(); );
var donationBtns = formEl.querySelectorAll('.donate-button');
donationBtns.forEach(function(el) el.addEventListener("click", function(event) event.preventDefault(); formProcessing(el) ); );
function formProcessing(el) var btn = el; var payment = btn.getAttribute('data-payment'); var planType = formEl.querySelector('input[name="plan_type"]:checked').value; var checkedOption = formEl.querySelector('input[name="amount"]:checked'); var amount = checkedOption.value * 1; var amountOptional = checkedOption.getAttribute('data-amount'); var dataValue = checkedOption.getAttribute('data-value'); var action;
if ( formEl.contains(formEl.querySelector('.remove-me')) ) formEl.querySelectorAll('.remove-me').forEach(function(el) el.remove() );
if ( payment == "paypal" ) formEl.action = "https://www.paypal.com/cgi-bin/webscr"; formEl.setAttribute('target', '_blank');
addHidden( 'currency_code', 'USD'); addHidden( 'cmd', ''); addHidden( 'return', "https://www.wonkette.com/st/Wonkettes_Hero"); addHidden( 'cancel_return', window.location.href);
if ( planType == "once" ) checkedOption.value = dataValue; formEl.querySelector('input[name="cmd"]').value="_donations"; addHidden( 'business', 'rebecca@wonkette.com'); addHidden( 'item_name', 'Wonkette Donation'); addHidden( 'item_number', 'Just Once');
//add new params addHidden( 'a3', dataValue); addHidden( 'p3', 1); addHidden( 't3', 'D');
else if ( planType == "monthly" ) formEl.querySelector('input[name="cmd"]').value="_xclick-subscriptions"; addHidden( 'business', 'rebecca@wonkette.com'); addHidden( 'item_name', 'Wonkette Recurring Donation'); addHidden( 'item_number', 'wonkette_recurring');
//add new params addHidden( 'a3', dataValue); addHidden( 'p3', 1); addHidden( 't3', 'M'); addHidden( 'src', 1); addHidden( 'srt', 52);
formEl.submit(); else if ( payment == "strip" ) addHidden( 'entity_type', 1); addHidden( 'plan_type', 1); addHidden('entity_id', getSiteId() ); checkedOption.value = dataValue * 100;
if ( planType == "once" ) formEl.action = "/core/payment/single_donation"; addHidden( 'plan_name', 'One Time Donation'); stripInit(amount, 'One Time Donation');
else if ( planType == "monthly" ) formEl.action = "/core/payment/recurring_donation"; addHidden( 'plan_name', 'Monthly Donation'); addHidden( 'plan', 'donation_' + amount); stripInit(amount, 'Monthly Donation');
function addHidden(key, value) // Create a hidden input element, and append it to the form: var input = document.createElement('input'); input.type="hidden"; input.name = key; input.value = value; input.className += 'remove-me'; formEl.appendChild(input);
function stripInit(amount, description) var token = function(res) addHidden('stripeToken', res.id); addHidden('stripeEmail', res.email); formEl.submit(); ;
if (amount) StripeCheckout.open( key: 'pk_live_7dJjNGbMgTkHfEasr9FsLcjF', // real //key: 'pk_test_zbMpaIyMyHJ7TLUEheC7q2iS', //test amount: amount, name: 'Wonkette', image: 'https://assets.rbl.ms/16950638/origin.png', description: description, panelLabel: 'Donate', token: token, locale: 'auto' ); else window.alert('Select donation amount first')
);
function getSiteId() var site_id = null; var inner = document.querySelector('html').innerHTML var str = inner.split('"site_id": '); if( str[1] != undefined ) site_id = str[1].split(',')[0];
return !isNaN(site_id) ? site_id : false;
}
formsHandling();
REBELMOUSE_STDLIB.createElementChangeListener(".show-more.js-expand:not(.processed)", (el) => const keepReading = el; keepReading.classList.add("processed"); keepReading.addEventListener("click", function() setTimeout(formsHandling, 500) ); );
});
});
window.REBELMOUSE_ACTIVE_TASKS_QUEUE.push(function(){
window.disqus_config = function () this.page.identifier = "2657123644", this.page.url = "https://www.wonkette.com/manhattan-da-alvin-bragg-pinky-swears-trump-investigation-isn-t-imploding-like-a-trump-hotel"; ; var disqusCt = document.createElement('div'), disqus_config; disqusCt.id = 'disqus_thread'; (function () )();
function loadCountScript(callback) var s = document.createElement('script'); s.type="text/javascript"; s.async = true; s.id = 'dsq-count-scr'; s.src = "//wonkettecom.disqus.com/count.js"; var x = document.getElementsByTagName('script')[0]; x.parentNode.insertBefore(s, x); s.onload = () => callback(s); document.head.append(s);
loadCountScript(script => /*Add comment Button to all articles*/ REBELMOUSE_STDLIB.createElementChangeListener(".share-panel:not(.js--has-comments)", (el) => let sharesPanel = el; sharesPanel.classList.add('js--has-comments'); if (sharesPanel.closest('.article__shares')) let postId = window.REBELMOUSE_BOOTSTRAP_DATA.post.id, postURL = location.protocol + '//' + location.host + location.pathname; addButton(postURL, postId, sharesPanel); else if (sharesPanel.closest('.widget')) let thisPost = sharesPanel.closest('.widget'), postId = thisPost.getAttribute('elid'), postURL = thisPost.querySelector('.widget__headline-text').getAttribute('href'); addButton(postURL, postId, sharesPanel);
); );
function addButton(url, id, el) var commentBtn = document.createElement('span'); //commentBtn.href = url; commentBtn.classList.add('js--toggleDisqus'); commentBtn.classList.add('disqus-comment-count'); commentBtn.setAttribute('data-disqus-url', url); commentBtn.setAttribute('data-postid', id); //commentBtn.setAttribute('data-disqus-identifier', id); commentBtn.innerText="0"; el.append(commentBtn); DISQUSWIDGETS.getCount( reset: true ); //console.log(url, id);
REBELMOUSE_STDLIB.createElementChangeListener(".js--toggleDisqus:not(.js--callDisqus-processed), .show-more:not(.js--callDisqus-processed)", (el) => { console.log('run callDisqus()'); var timeOut = 10; if (el.classList.contains("show-more")) timeOut = 1000;
el.classList.add('js--callDisqus-processed') el.addEventListener('click', function () setTimeout(function () , timeOut) ); }); // Hide hidden tip-jar, idk why window.REBELMOUSE_STDLIB.createElementChangeListener(".js-keep-reading:not(.js-processed)", (el) => let keepReading = el; keepReading.classList.add('js-processed'); //keepReading.closest('.mb-2').nextElementSibling.style.display='none'; );
});